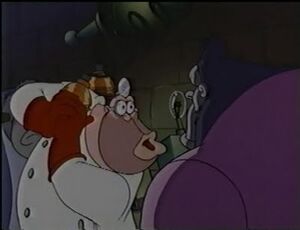 Norman Stein the poacher is Marsupilami's main "Bad Guy" in the Disney series. Though he goes by the business title "Mr. Norman" in his first apearance, Working Class Mars, there is a debate on whether or not Norman is related to the other poacher the spotted animal puts up with, Bring M. Backalive (they lack family resemblance, but most theories prove positive). He has changed jobs numberous times, enough to make is so Mars has to introduce himself and Maurice to the guy over and over (half the time, Norman forgets meeting them, he usually has trouble saying "Marsupilami" anyway). Norman is a con-man who puts rediculously high prices on all his scams and has a thrill of overworking and underpaying his employees... in his business man gig, three secretary people quit under his employment in one week (and it was only Monday), so it's little wonder the Empolyment Agency sent Mars and Maurice to him, as they are the most foolish, lest stress-prone, and bond to get on "Mr.Norman's" nerves to the point he hurts himself (the pushed it further by making them his nurses).
Community content is available under
CC-BY-SA
unless otherwise noted.