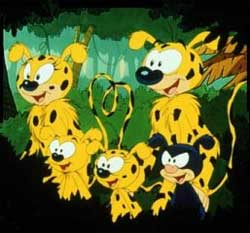 Marsupilamie is Mars' main lady in the comics and French cartoons (in fact she's his wife!) who is the more down-to-earth half of the couple. (It's a shame she wasn't part of the Disney version, for if she was, her nickname would've most likely had been "Mia", not only because it's a stand-out pronousiation of the silent-yet-feminine "e" at the end of her name, but also because it's a common Hispanic name suiting her Native South American origins). Mia resembles her husband, spots and all, except her eyes are farther apart, her body is curvier, the fur on her neck is less mane-like, and she likes to wear a tropical flower between her ears. Although she likes the flowers and fruit and other trinkets of love Mars gives her, she tends to throw them out while stressed out, as they mean nothing to her unless his actions prove his love instinctually, such as building a love nest, searching the wilderness for her when he realises she ran off into the jungle and didn't come back the next morning, or even fighting off a jaguar for her when she's more then capable of fighting the preditor off herself (they don't call her jungles the "Amazon" Rainforest for nothing). Though she knows Mars means well, she tends to keep him on his toes (in less litural ways then the way she walks) by not being so akward on the times she doesn't like what he does or gives. The main strenght of their relationship is when he admits that she's always right (or at least closer to always then he is) and how she can be forgiving enough to involve herself in his silly games... so long as no other female makes a move on him, for although quick to notice he returns love to none but her, Mia can get extremely jealous. Another detail that strengthens their marriage is that she likes music and she's an expert dancer (not picky about style, but her signature songs are usually something upbeat, like the lombada), and all marsupilamis know that if one can dance, she can romance.
She is loving and resourceful, not just as a wife and mother of three, but as a friend as well, and she seems to know ancient herbology for first aid when needed. She also has great patience and focus, as she can get a bigger catch then Mars on fishingtrip... one time she brought up a piranha large enough to rival a baracuta, and dispite the fact it pulled her into the water, she resurfaced with her catch and Mars fell for her all over again. In spite that, she wasn't as strong against pouchers as her husband, proving he has more experiance with humans then she does, but she makes up for it with common sence and jungle savy.
Community content is available under
CC-BY-SA
unless otherwise noted.