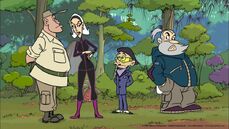 Felicia Devort is the main villainess of the series "Houba Houba Hop!". She hates nature and intends to turn the Polombian Jungle into her own megalopolis, Devort City, at all costs.
She gets constantly frustrated by her henchmen, Ollie Stroy and Blou Print, and has a strong dislike (even fear) of the Marsupilami. Her base is located in Polombia in a giant bunker-like fortress. She had at least six husbands. Also she is the aunt of Pam and Julius Devort.
Felicia has blond white hair and wears a black suit with purple boots.
Felicia´s office is in the highest part of her fortress. It has got large panoramic windows. In some episodes a model of Devort City is seen in the center of the room. Her office is equipped with a large purple armchair where Felicia sits, and a smaller stool. She has got a large pink desk with control buttons and a tall light purple lamp. In the background, a large painting presumably of Devort City, hangs behind the desk.